NOVEMBER MEMO
Dear Parents/Guardians,
First, a big thank you goes out to our wonderful families for another successful Harvest Festival!  Our Harvest Festival continues to be successful because of all the team work and creativity poured into this event each year!  Thank you for all of your hard work and support!
Next, please make note of the following events for the month of November:
Tuesday, 11/6/18- Pacific Fundraiser: Delivery of fundraiser items will be from 2:30-4:00pm. Please go to the lunchroom to pick up your orders.
Thursday, 11/8/18- Coffee with the Principal:Parents are invited to come enjoy coffee in the lunchroom at 8:30am while chatting about LEPA events.  LEPA canned food drive concludes:  Scholars have been encouraged to bring in canned goods or boxed food items.  All canned/boxed goods will be put into food baskets that will be given to families the week prior to Thanksgiving.  Please check expiration dates since we will not be accepting items that are expired or will be expiring prior to December.
Thursday, 11/15/18- Free Dress Day: Please keep dress code in mind when choosing an outfit. Also, LEPA will offer a holiday feastthrough the hot lunch program again this year. Please be on the lookout for the permission slip in order for your scholar to participate.
Monday, 11/19/18 through Friday, 11/23/18- Fall Break: Campus is closed. Enjoy your week off and take this opportunity to spend quality family time.
Wednesday, 11/28/18- LEPA's holiday store opens. Scholars may bring money to purchase gifts.  Please send your scholar with a list of who they are suppose to purchase for along with the money amount that your scholar is allowed to spend on each person on their list when sending them with money to spend.
As a reminder, please do not send nuts or nut products to school with your scholar(s) due to severe allergies on campus. Your cooperation with this is greatly appreciated.
Thank you,
LEPA Staff
POLICY REMINDER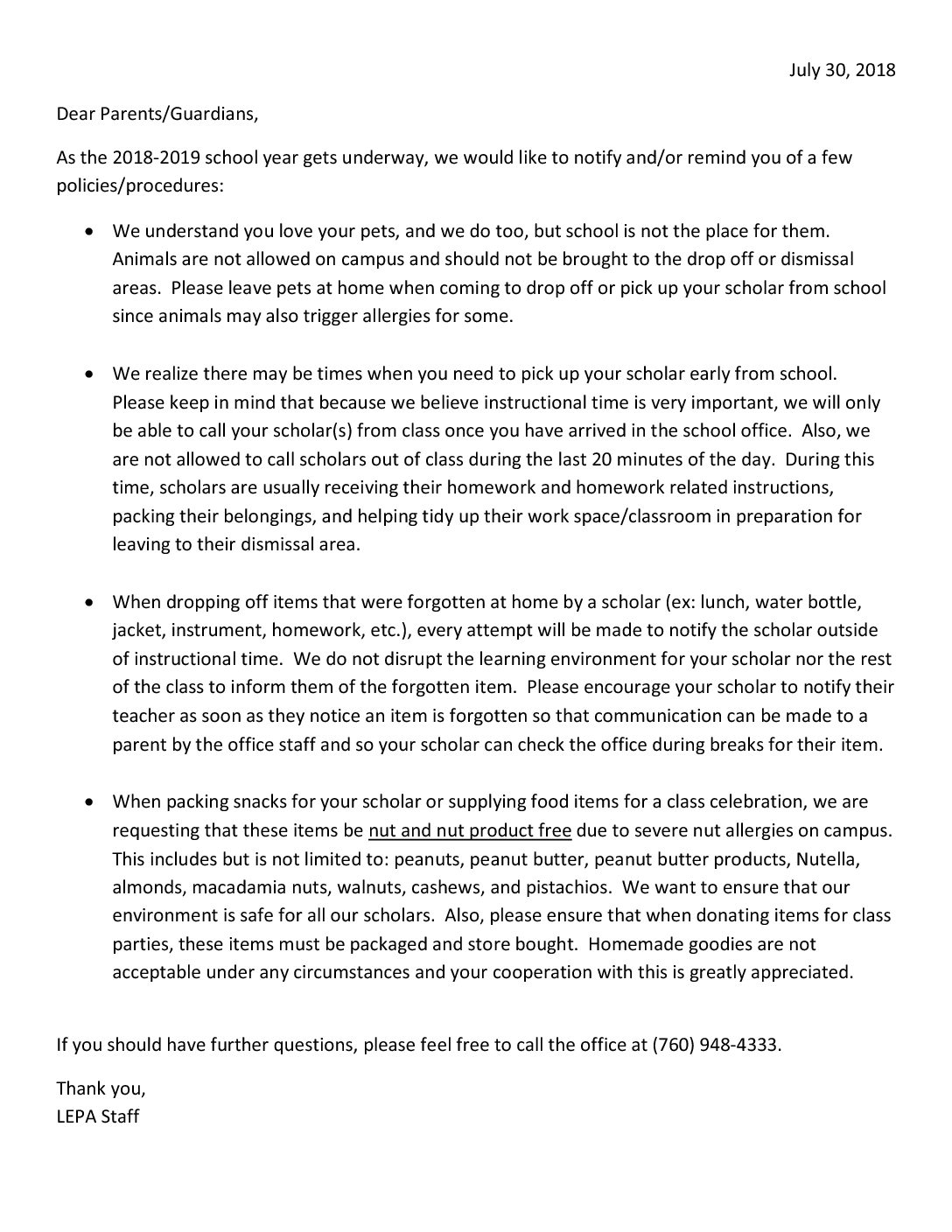 PARKING LOT MEMO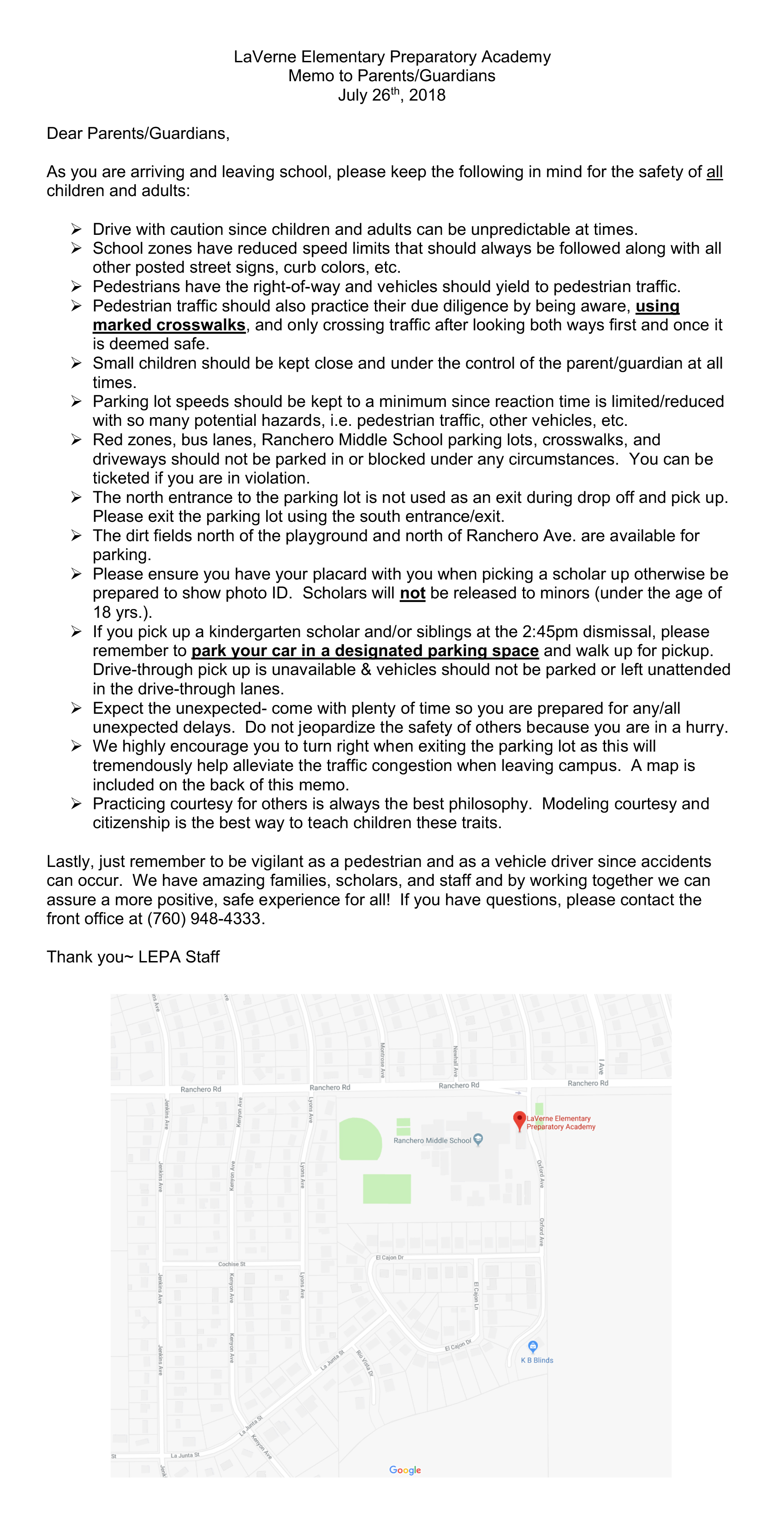 Welcome Letter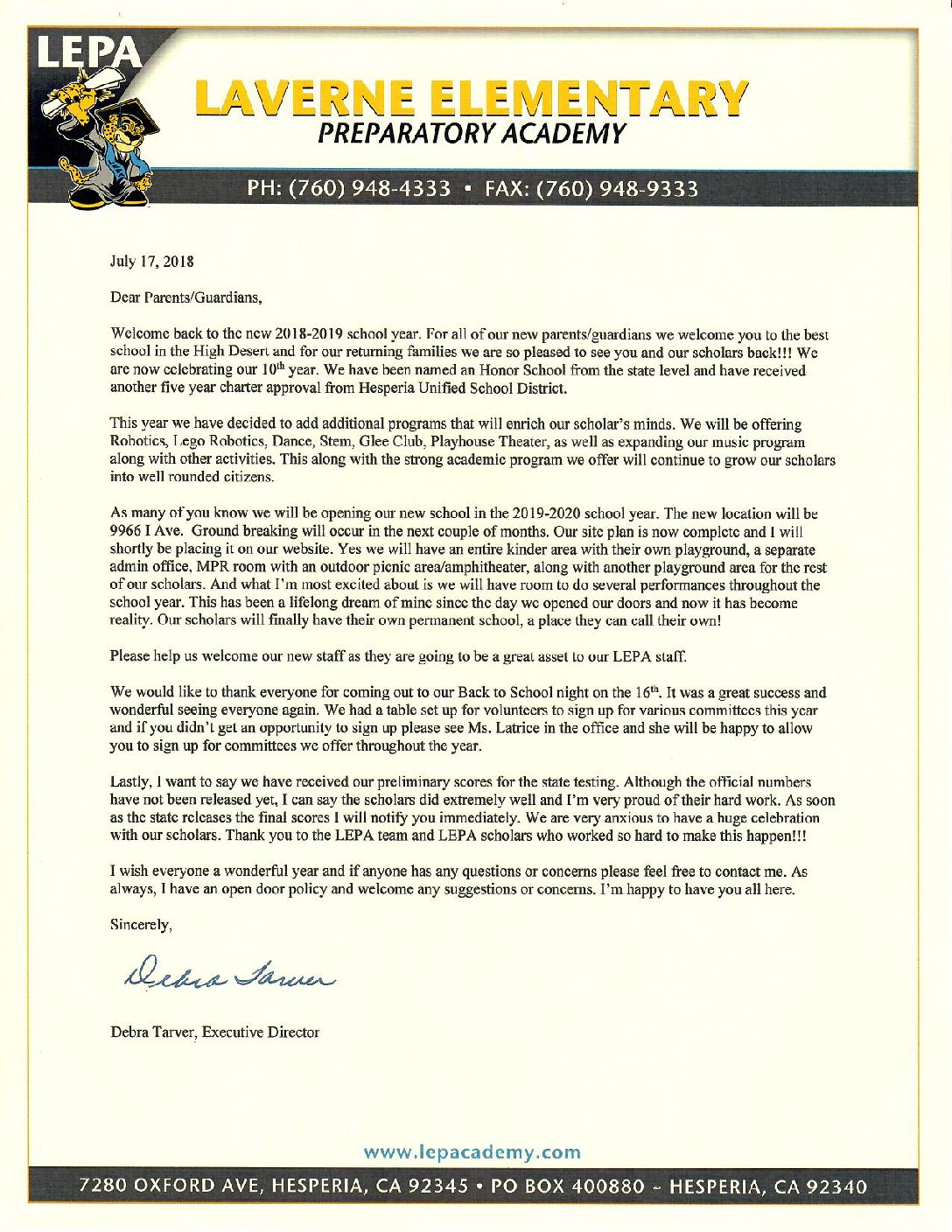 Info Sheet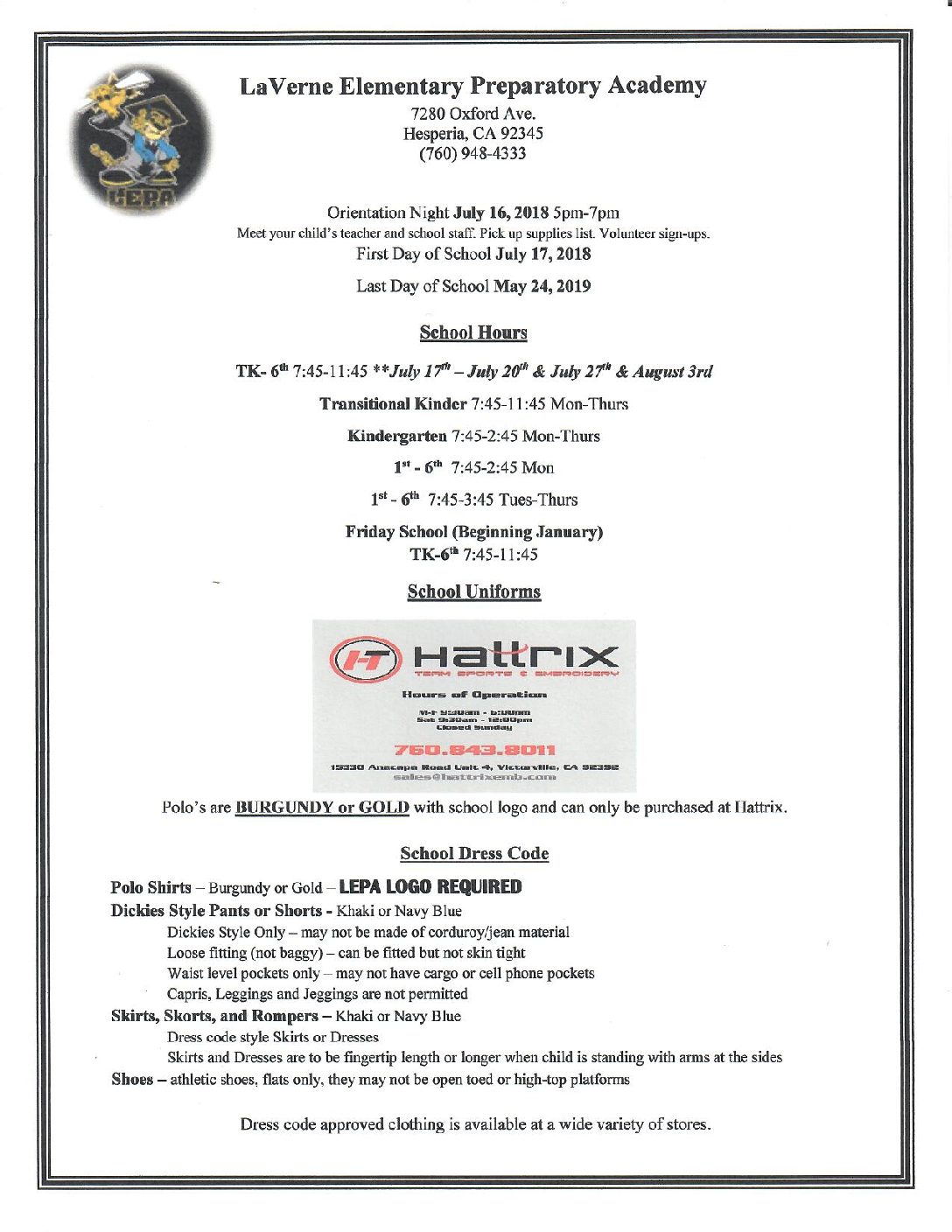 New School Memo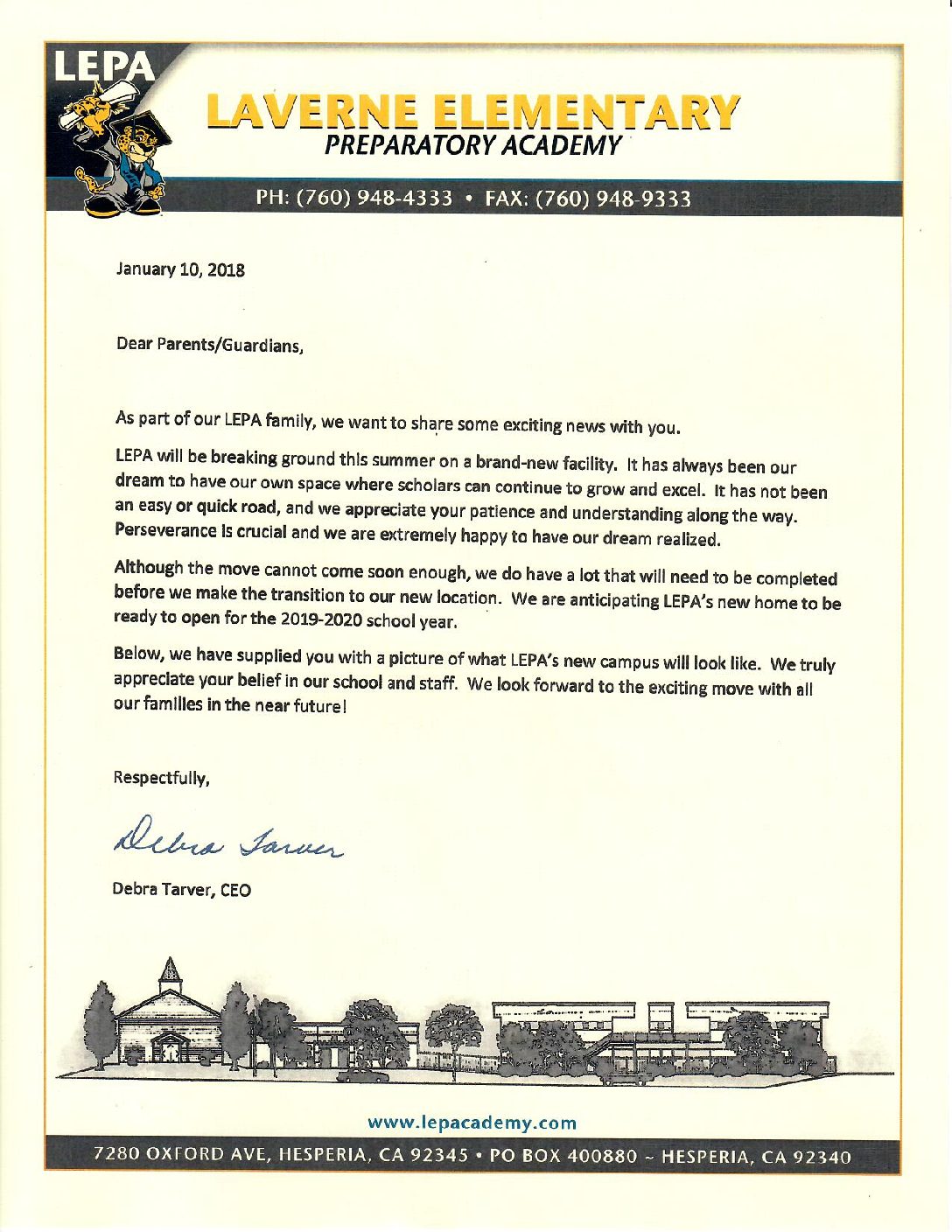 Legislation Info Memo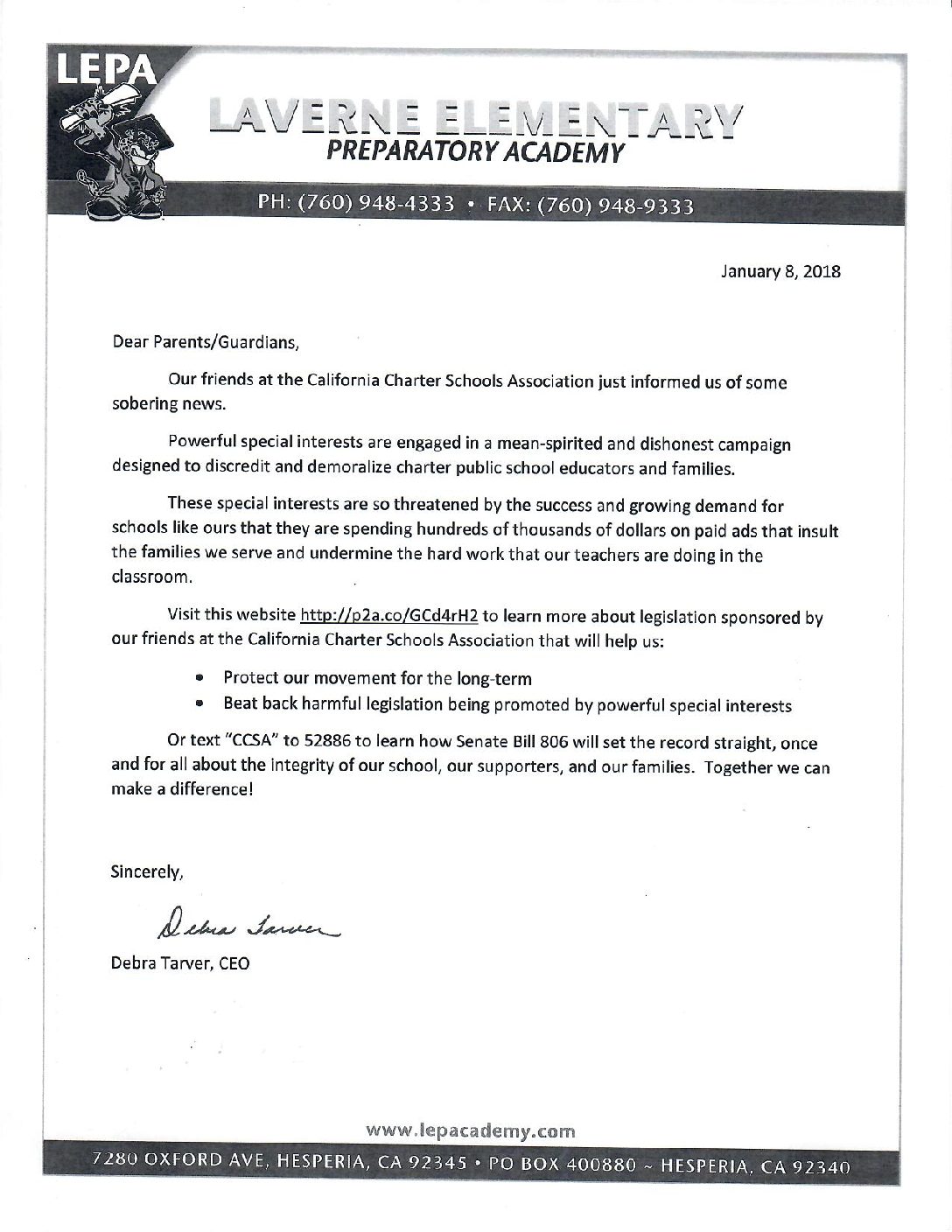 NOV  06
Pacific Fundraiser
NOV 08
*Coffee with the Principal
*LEPA canned food drive concludes
NOV 19-23
Fall Break
Campus is closed
NOV  28
LEPA's holiday store opens