DECEMBER MEMO
Dear Parents/Guardians,
Please make note of the following events:
Tuesday, 12/3/19: LEPA's Holiday Store opens. Items will be available for scholars to purchase as gifts for their family and friends.  Please make sure your scholar is aware of how much they are allowed to spend and who they are supposed to buy for. Prices range from 5ȼ to $10.
Wednesday, 12/11/19 and Thursday, 12/12/19 Minimum Day Schedule – 7:45 a.m. to 11:45 a.m. Please check with your scholar's teacher regarding conferences. Report cards will be sent home with all scholars on Thursday, 12/12.
Thursday, 12/12/19- Free Dress Day: Pajamas or Holiday Sweaters. Please keep dress code in mind when choosing an outfit.
Friday, 12/13/19 through Friday, 1/5/19- Winter Break: Campus is closed. Enjoy your vacation and take this opportunity to spend quality family time.  We will see you back at school on Monday, January 6, 2020.
Please remember when donating food that all items must be store bought not homemade (no exceptions) and should be nut free due to severe allergies on campus. Also, if you plan on being in the classroom, you must have a volunteer form on file in the office.
We are in cold and flu season. Please dress scholars appropriately for the various weather conditions and remind your scholars of proper health and hygiene practices.
Please don't forget to check the lost & found located in the front office. All items left in the lost and found will be taken to a donation center over Winter Break.
We hope all our families have a wonderful and safe holiday season! If you have questions, please contact the front office at (760)948-4333.
Thank you,
LEPA Staff
NON-SERVICE PETS
Attention Parents and Guardians,
Please be aware that non-service pets are not permitted at or near scholar pick-up gates/gathering areas during school operation hours. In addition, we do have scholars with allergies whom could be affected by the presence of your pets.
Thank you in advance for your cooperation with this matter.
Sincerely,
Jacqueline Jackson
LEPA Principal
GROUNDBREAKING MEMO
Dear Parent/Guardians,
We have been given final confirmation that LEPA's official groundbreaking ceremony has been scheduled for this Friday, May 17, 2019 at 11:00am.  This has been a long-awaited event and we are very excited.  We look forward to sharing pictures and details of this occasion along with the progress of our new site with you.  Once the Grand Opening Ceremony is scheduled, we hope you will be able to join us in the momentous celebration.  We thank you for your continuous support and look forward to our continued success.
Sincerely,
Ms. Tarver
POLICY REMINDER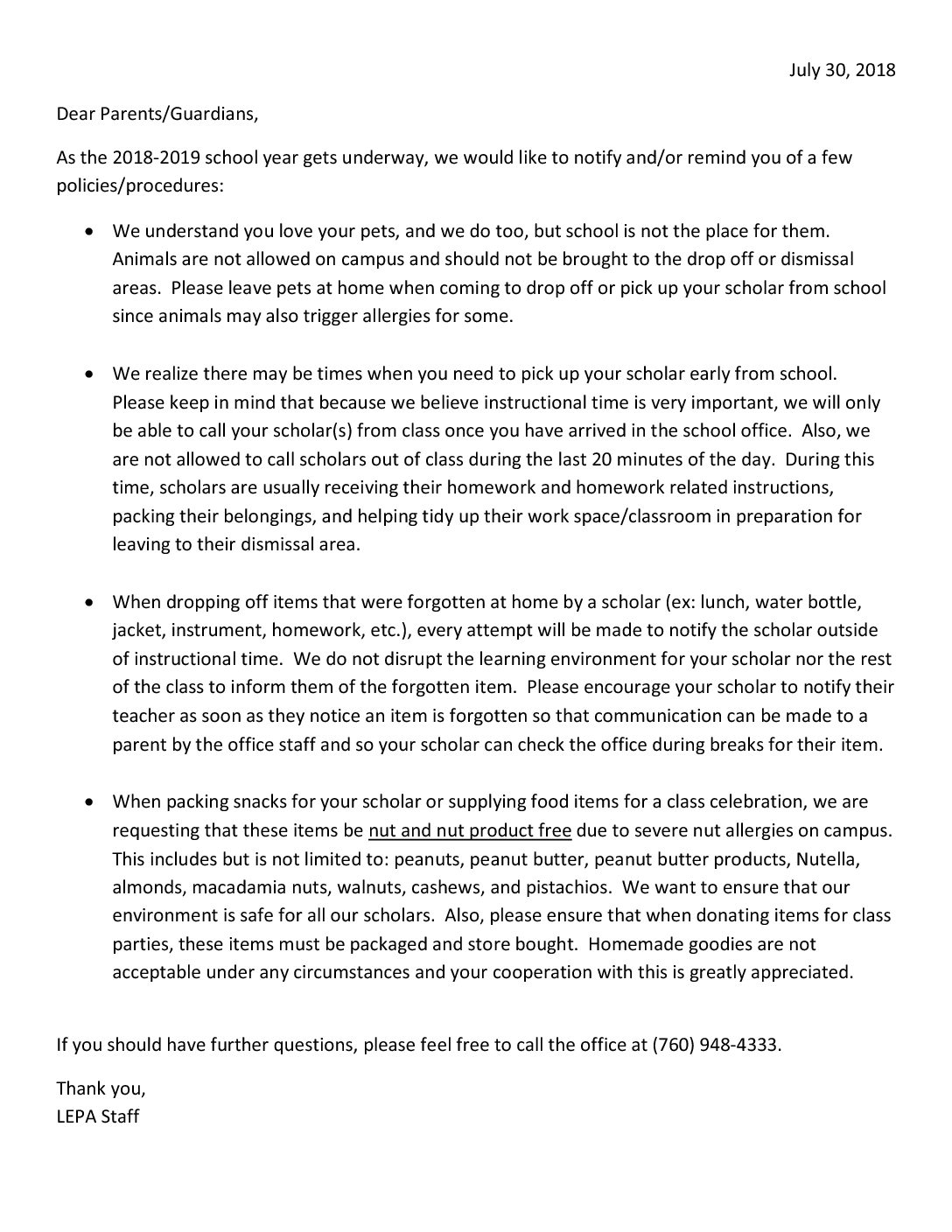 EMERGENCY KIT MEMO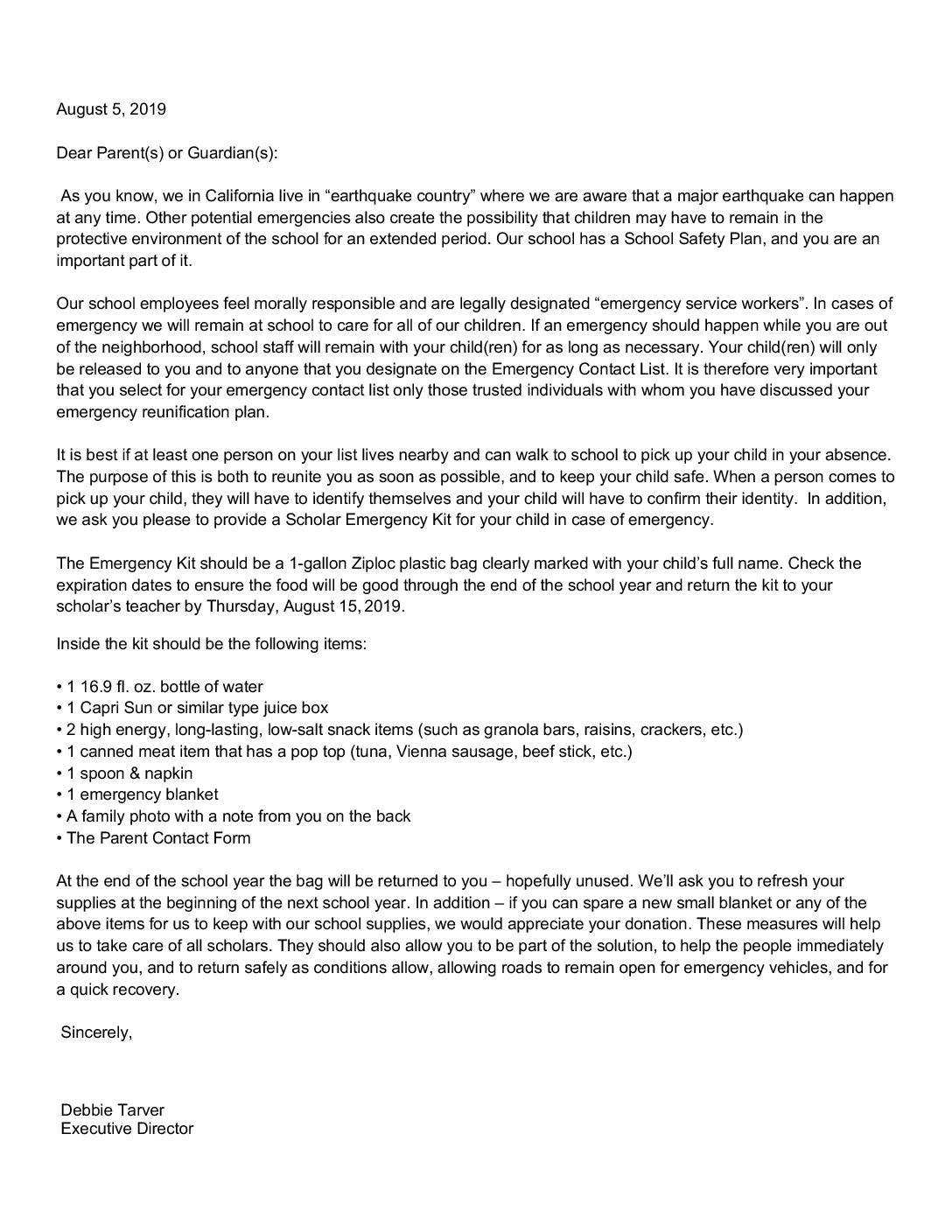 PARKING LOT MEMO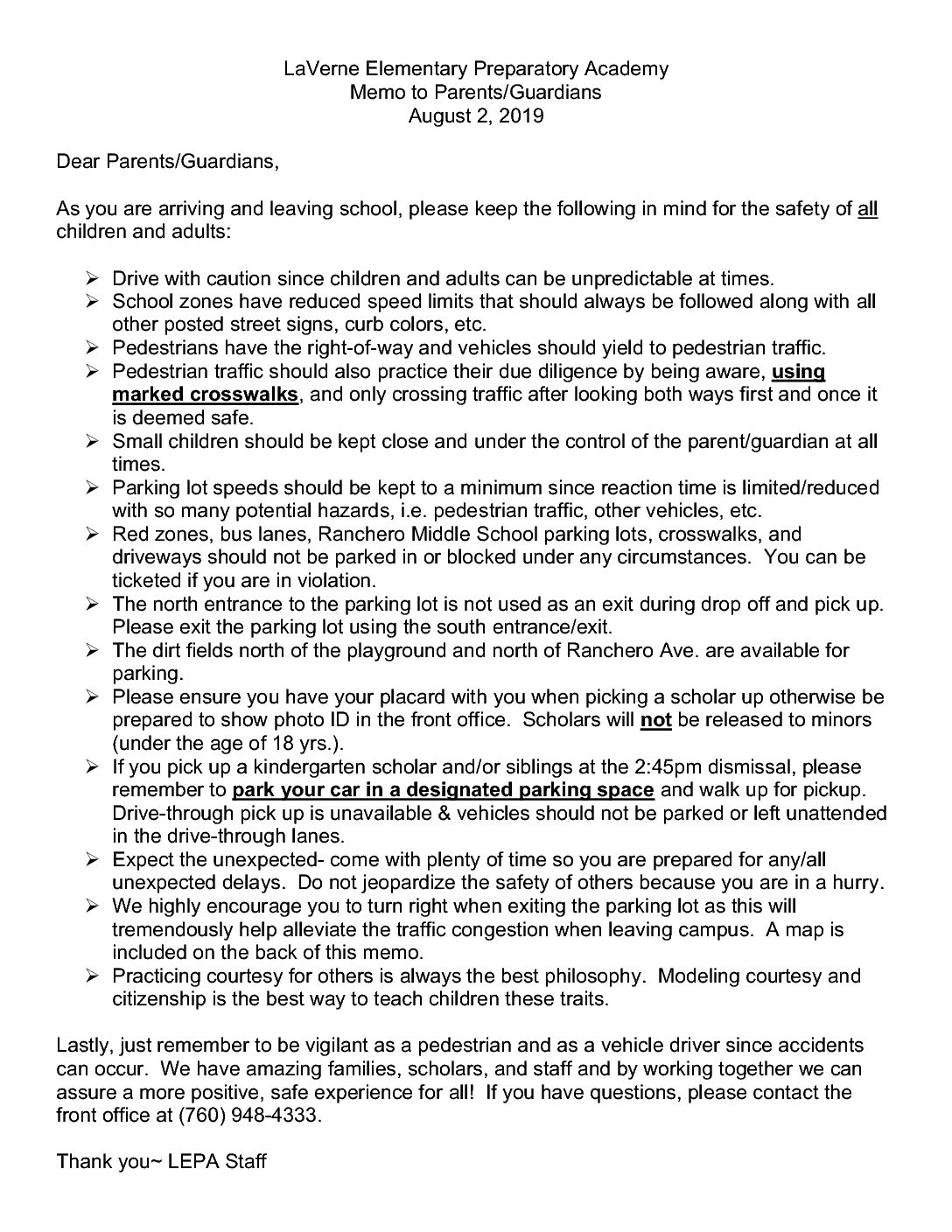 Welcome Letter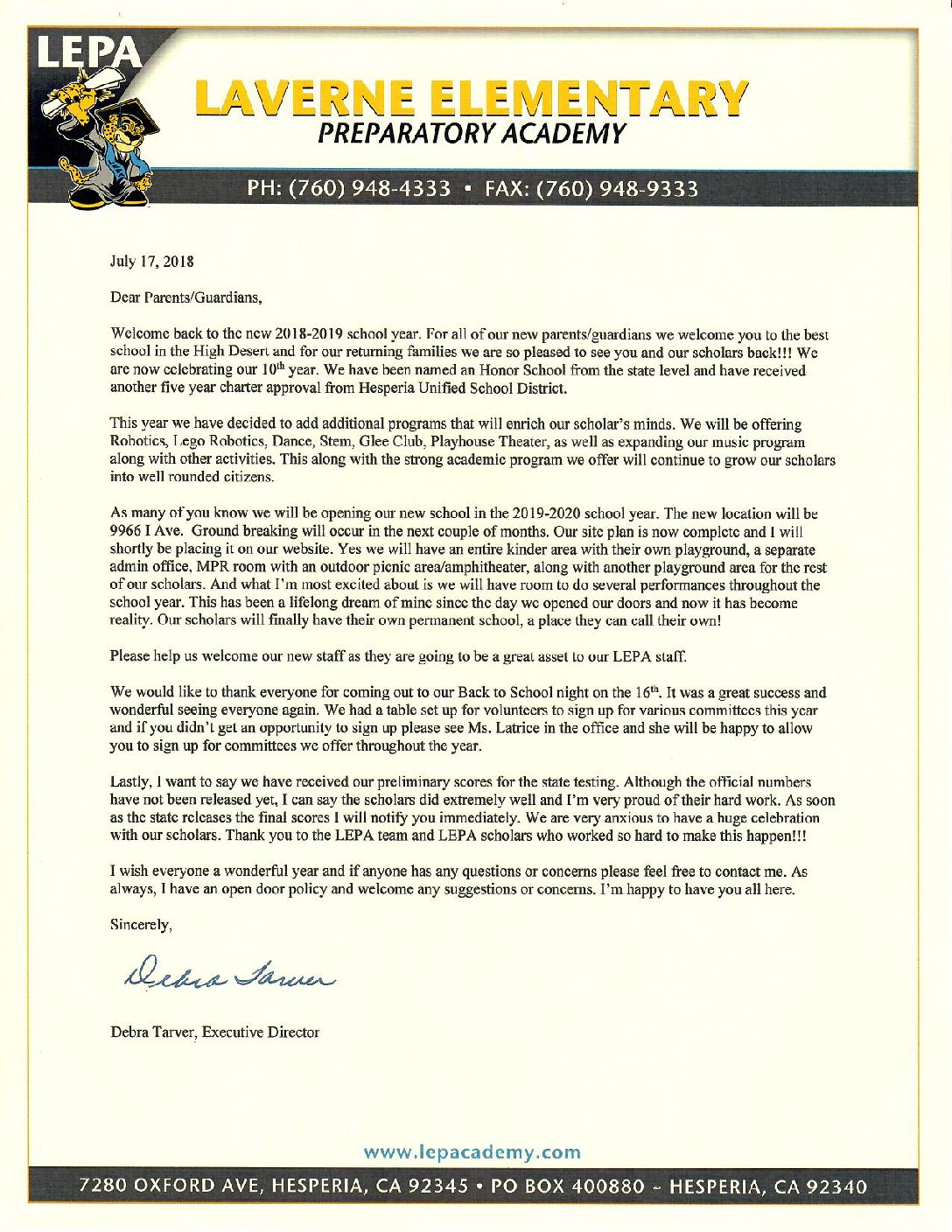 Info Sheet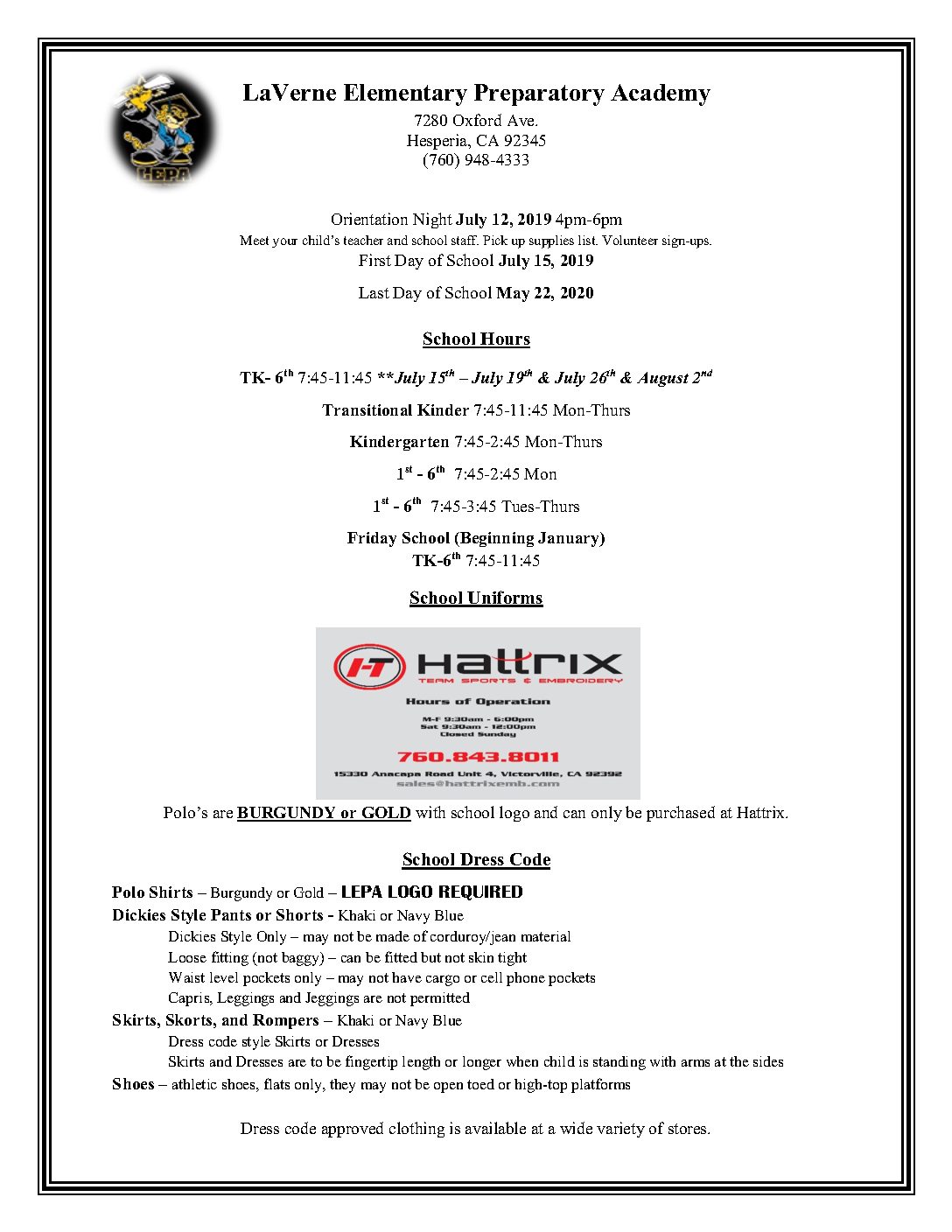 New School Memo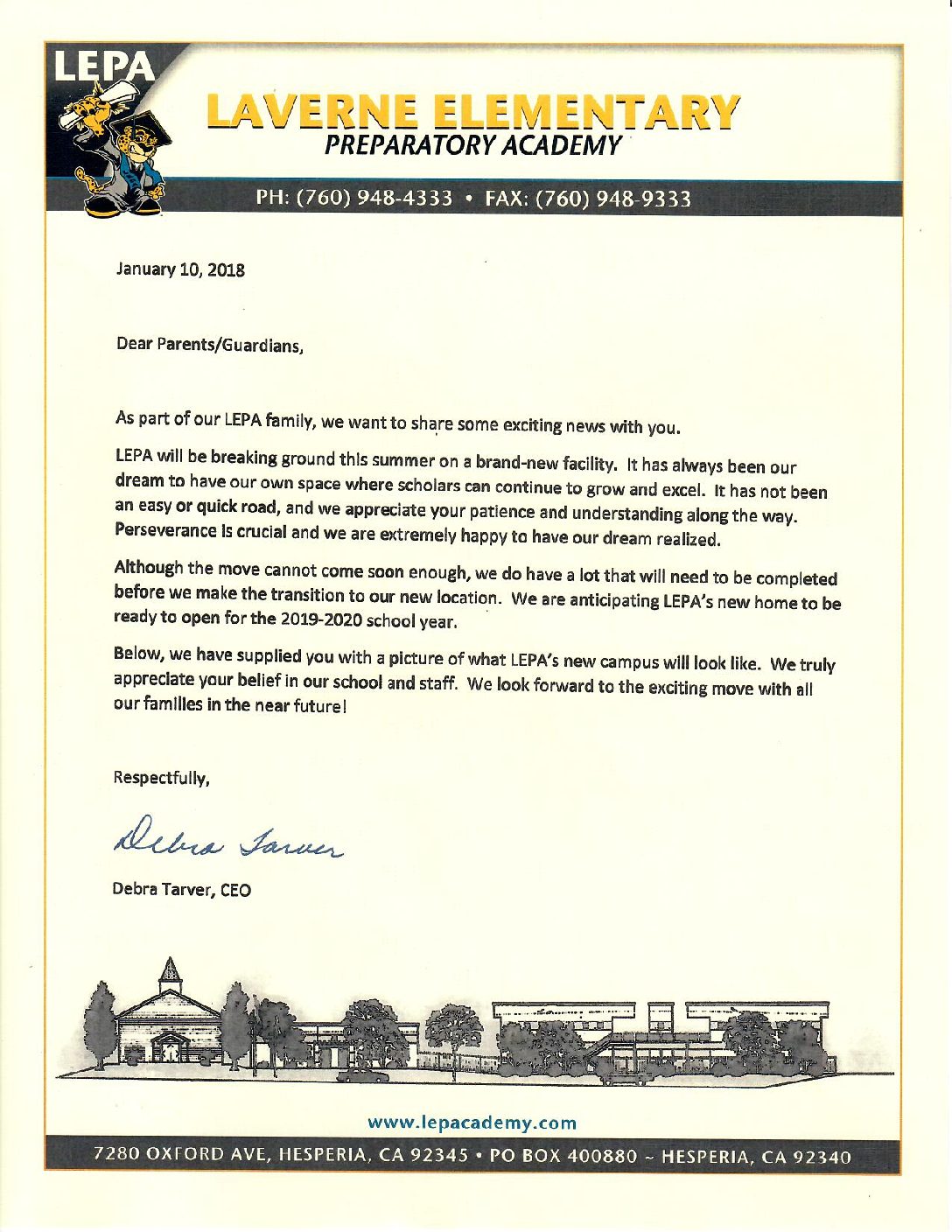 Legislation Info Memo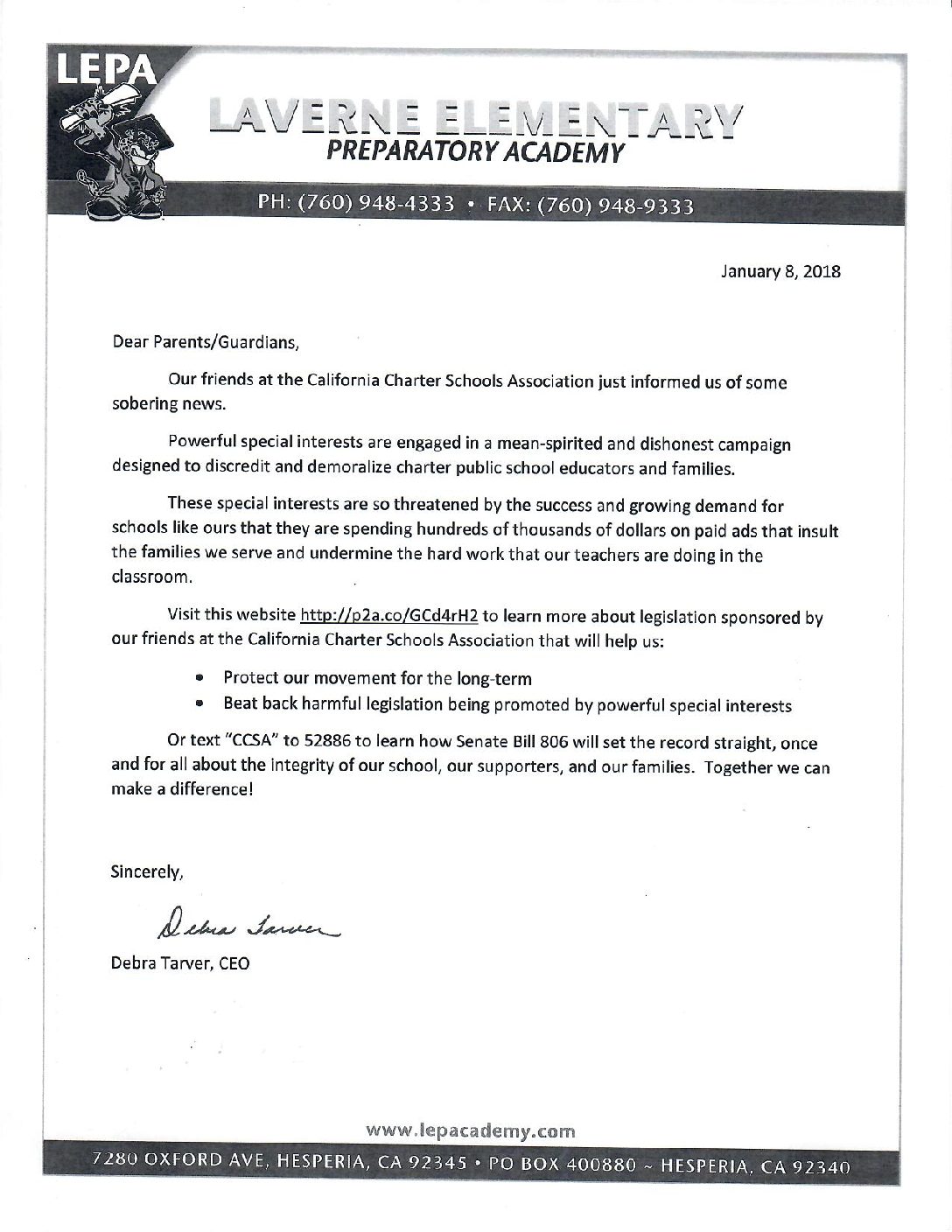 DEC 03
LEPA's Holiday Store opens
DEC  11,12
Minimum Day Schedule
DEC  12
Free Dress Day
Pajamas or Holiday Sweaters
DEC 13-
JAN 05
Winter Break:
Campus is closed