OCTOBER MEMO
Dear Parents/Guardians,
Please make note of the following:
The LEPA canned food drive is continuing. Scholars are encouraged to bring in canned food or boxed good items to earn Harvest Festival tickets (each item = 1 ticket). The canned food drive is extended through Tuesday, 10/8/19. The last day to earn Harvest Festival tickets for canned goods is also Tuesday, 10/8/19. All canned/boxed goods will be put into Food Baskets that will be given to families in need the week prior to Thanksgiving.  Since the items will be used in baskets, please do not write scholar names directly on the items.  Lastly, please check expiration dates since we will not be accepting items that are expired or will be expiring prior to December.
Tuesday, 10/1/19 through Tuesday, 10/15/19- Pacific Fundraiser: Fundraiser packets will come home with your scholar(s) October 1st.  All orders and payments need to be returned to school on Tuesday, 10/15/19.  Delivery of fundraiser items will be on Tuesday, 10/29/19 from 2:30pm-3:30pm.
Tuesday, 10/1/19 through Wednesday, 10/9/19 Harvest Festival presale tickets can be purchased. They will be sold before and after school in the front office. Buy your tickets early to avoid ticket lines the day of the festival.
Thursday, 10/10/19- Free Dress Day: Western Wear Theme & Harvest Festival: Scholars can come to school dressed in western clothing in anticipation of going to the Harvest Festival.  All scholars will be dismissed at 10:45am. Parents must pick up their scholar(s) from the dismissal area. Scholars must be accompanied by a parent or guardian to attend the Harvest Festival. The Harvest Festival will run until 3:00pm.  Items will be raffled off and the Kona Ice truck will be there, so bring cash for these extra goodies! All are welcome to come celebrate fall and have an amazing time at our annual event!
Lunch through the school lunch program will still be served before the Harvest Festival begins. Scholars are able to purchase a lunch for the price they qualified for (Free, reduced-40¢, and full price-$3.00)
Monday, 10/14/19- Columbus Day Holiday: Campus is closed.
Tuesday, 10/15/19- Make-up Picture Day: Scholars who were absent for picture day in August or are new to LEPA will be having their picture taken. If you purchased pictures from the first picture day and you were dissatisfied with the pictures, your scholar can retake their picture by bringing the unsatisfactory pictures back to school to give to the photographer. Scholars must wear their uniforms for these pictures.
Please note: no costumes, make-up, masks, or dress up attire is permitted on 10/31/19. Scholars must wear their uniforms to school.
If you have any questions, please feel free to contact the office at (760)948-4333.
Thank you,
LEPA Staff
NON-SERVICE PETS
Attention Parents and Guardians,
Please be aware that non-service pets are not permitted at or near scholar pick-up gates/gathering areas during school operation hours. In addition, we do have scholars with allergies whom could be affected by the presence of your pets.
Thank you in advance for your cooperation with this matter.
Sincerely,
Jacqueline Jackson
LEPA Principal
GROUNDBREAKING MEMO
Dear Parent/Guardians,
We have been given final confirmation that LEPA's official groundbreaking ceremony has been scheduled for this Friday, May 17, 2019 at 11:00am.  This has been a long-awaited event and we are very excited.  We look forward to sharing pictures and details of this occasion along with the progress of our new site with you.  Once the Grand Opening Ceremony is scheduled, we hope you will be able to join us in the momentous celebration.  We thank you for your continuous support and look forward to our continued success.
Sincerely,
Ms. Tarver
POLICY REMINDER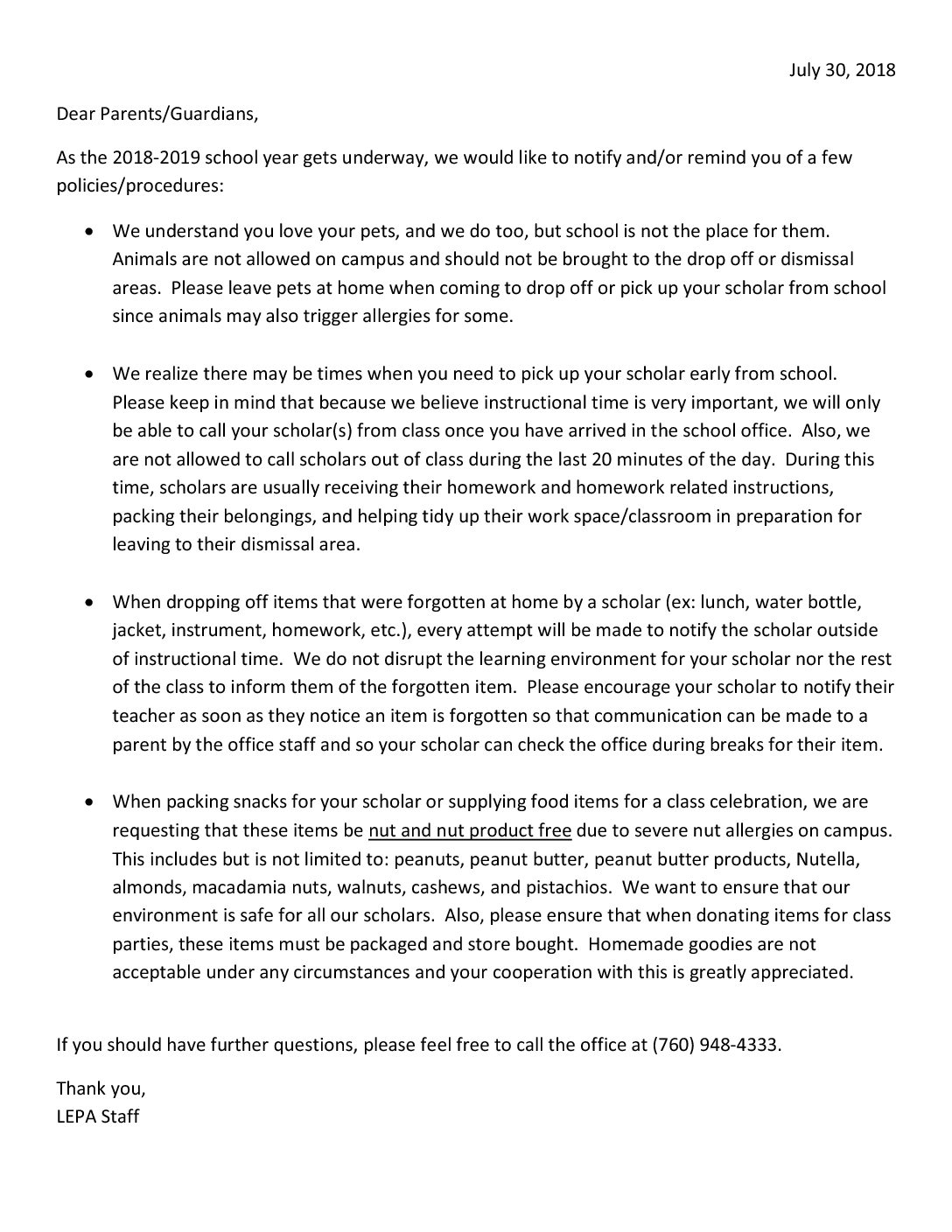 EMERGENCY KIT MEMO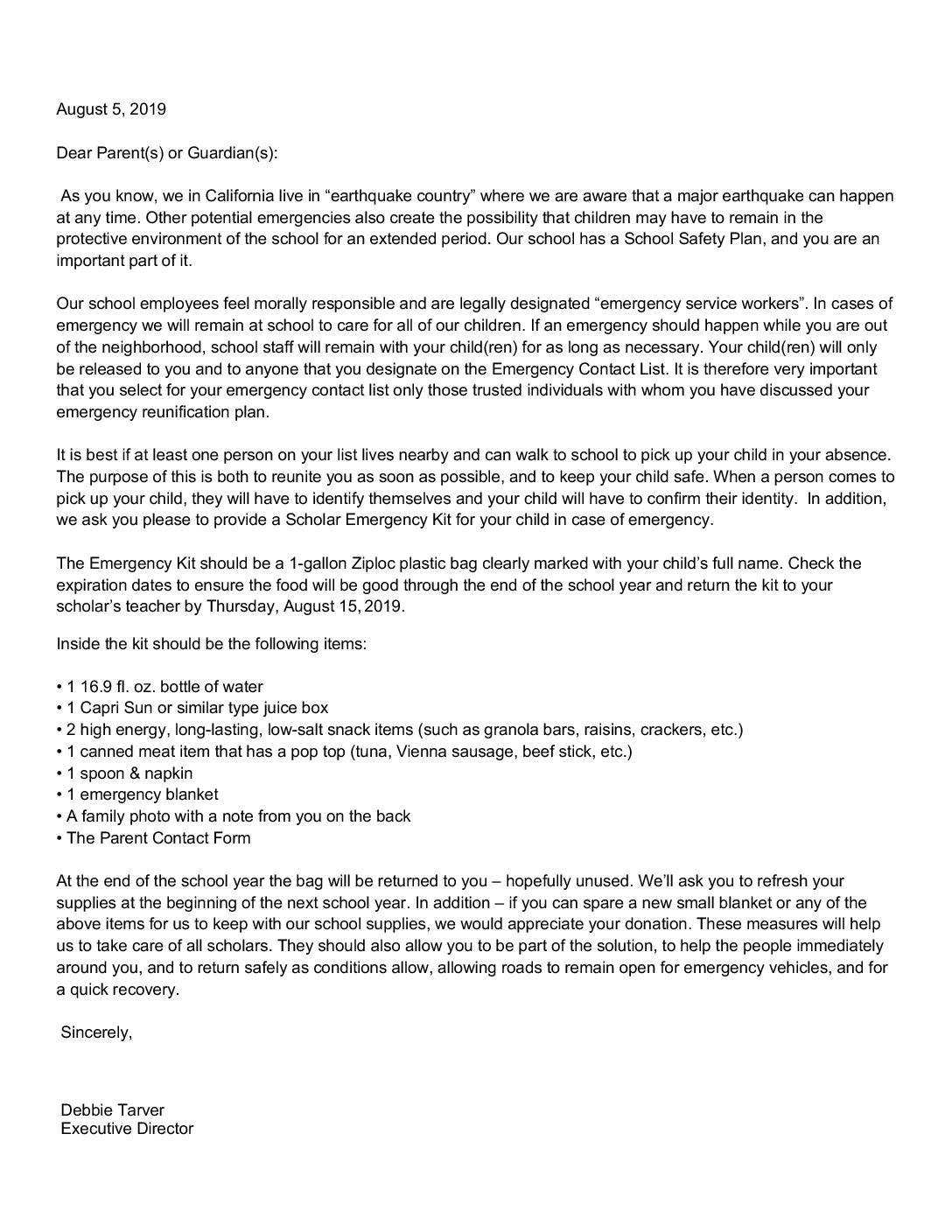 PARKING LOT MEMO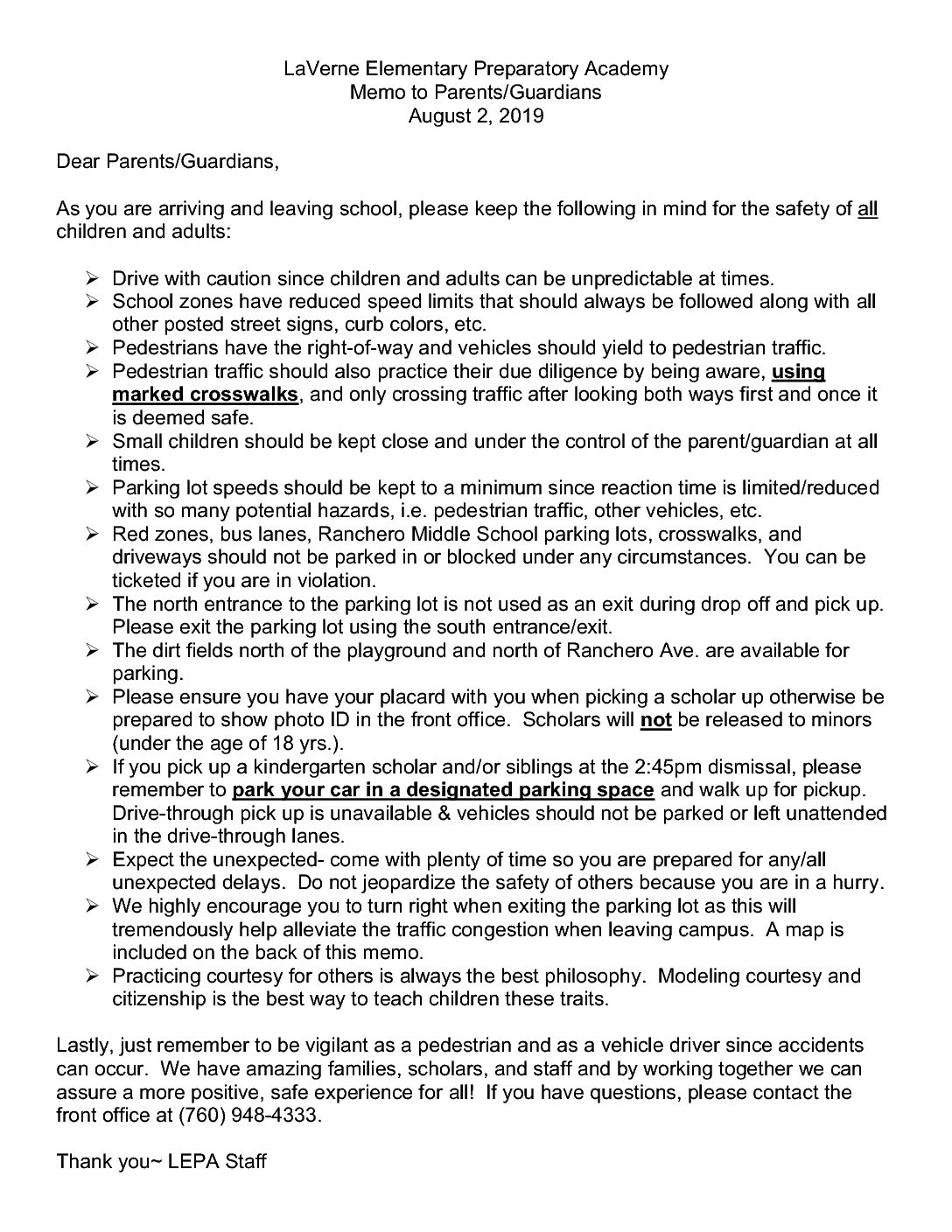 Welcome Letter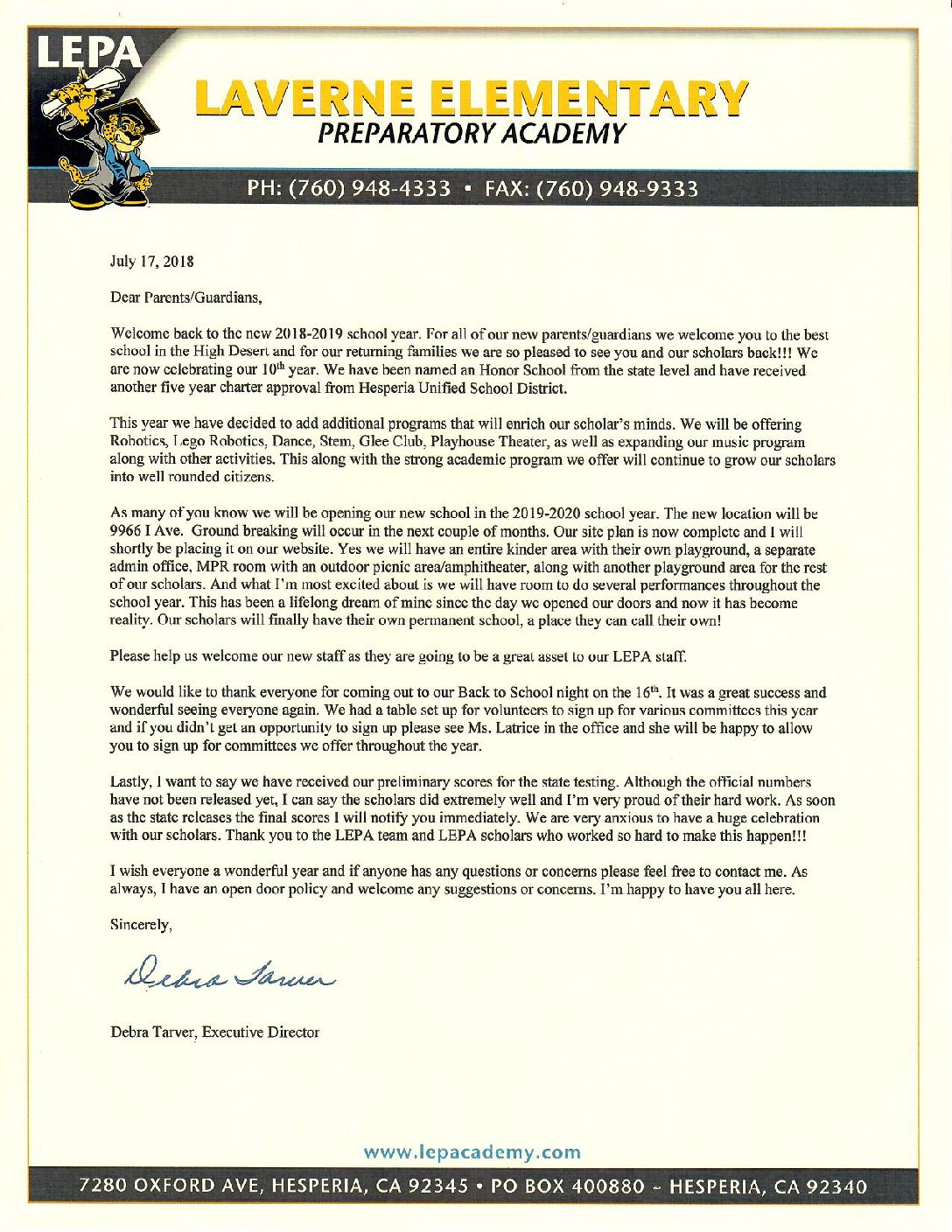 Info Sheet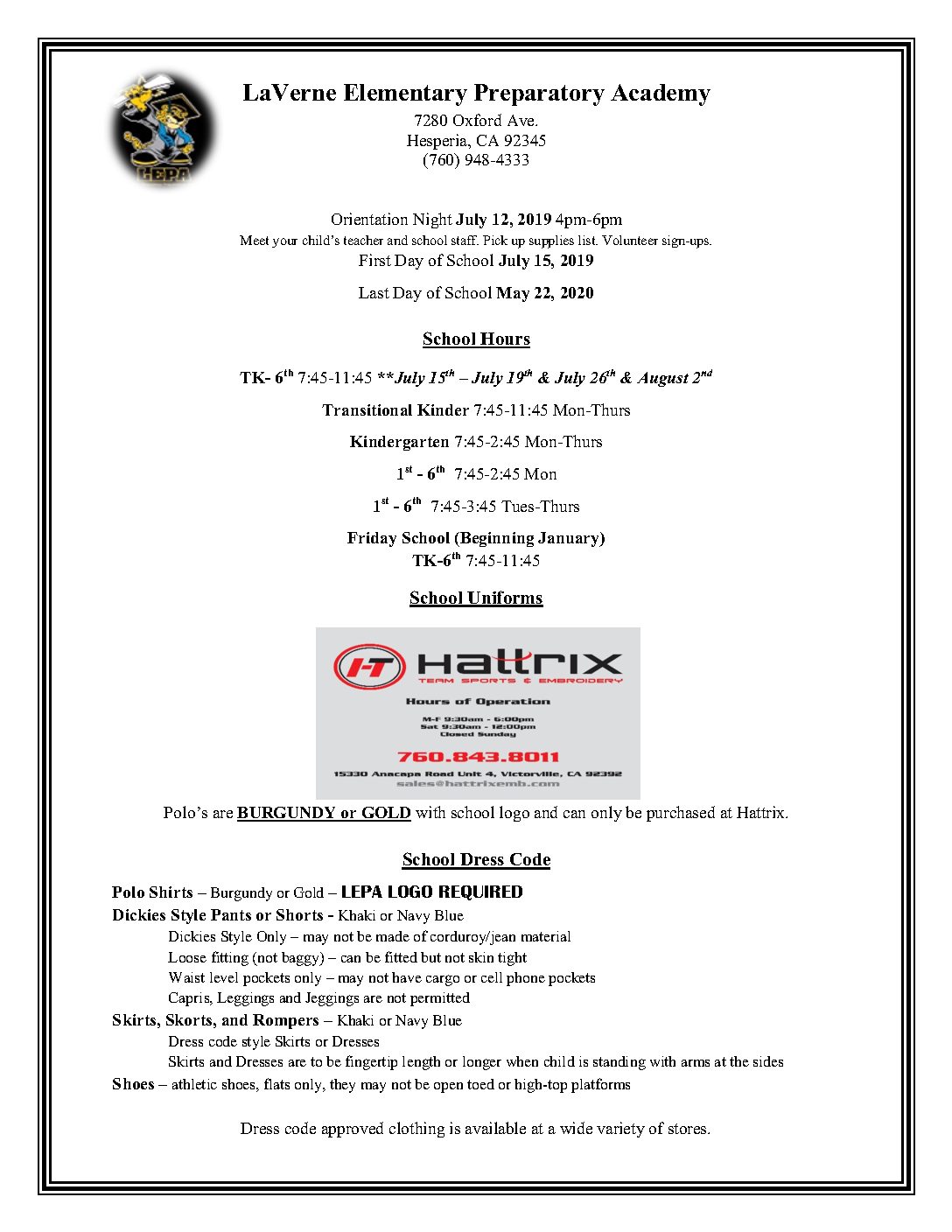 New School Memo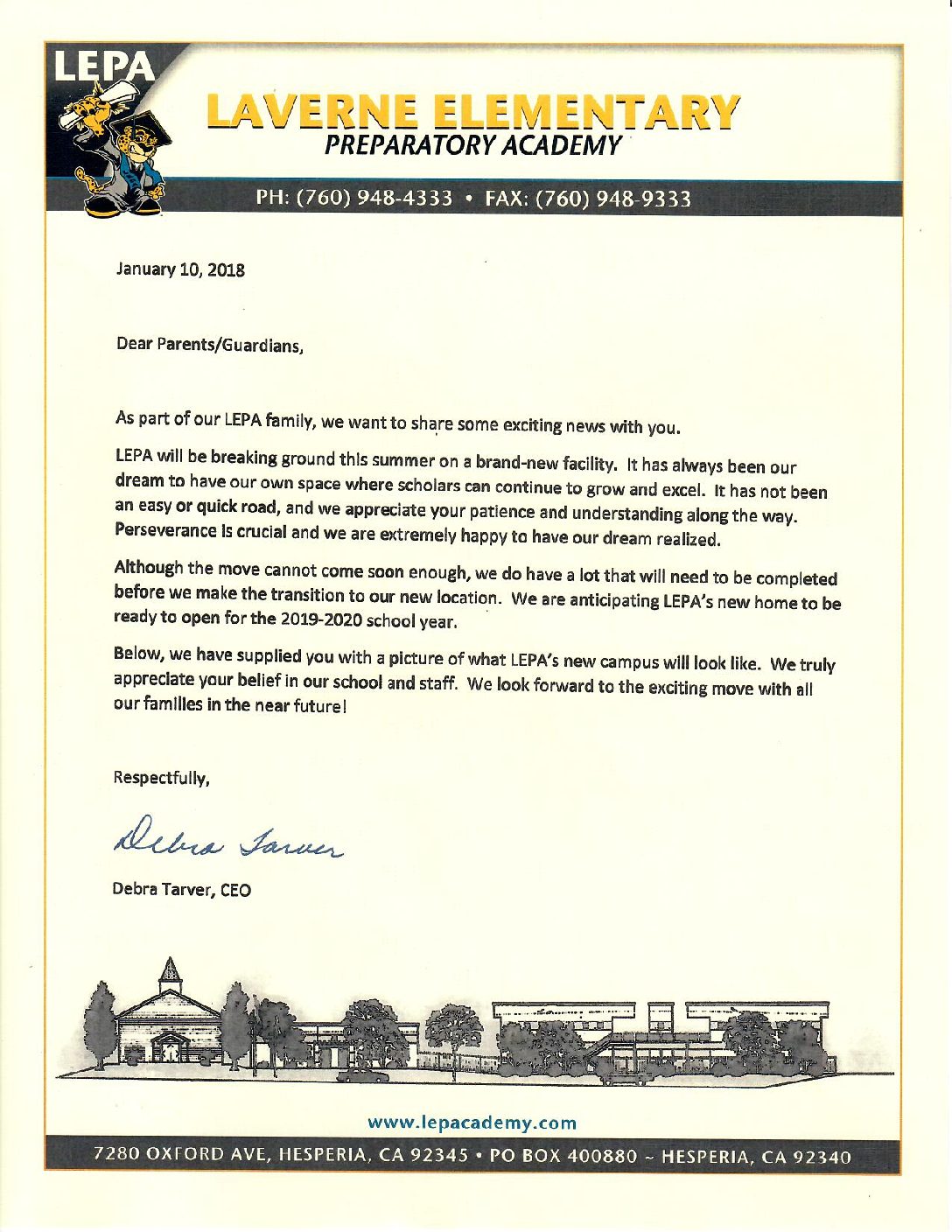 Legislation Info Memo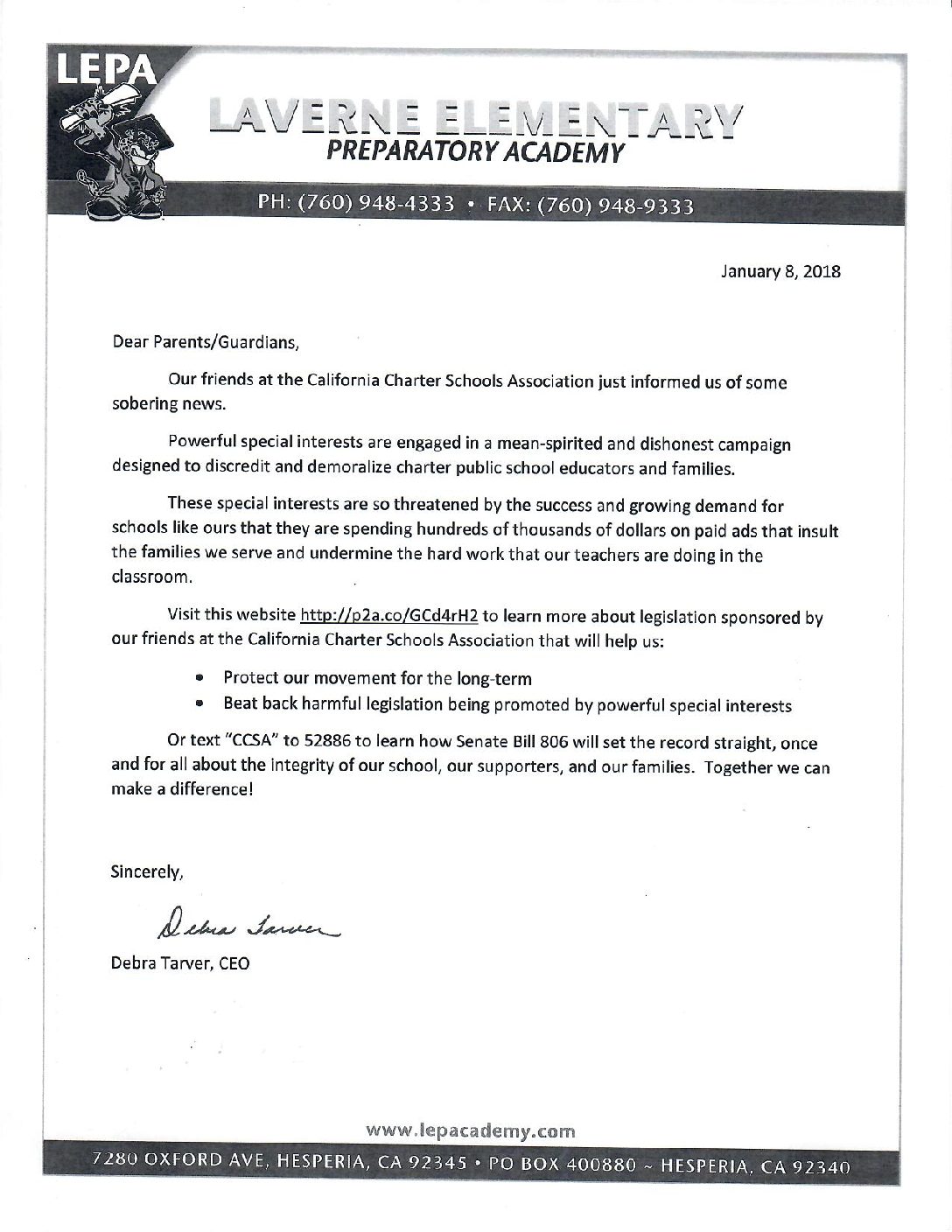 OCT  01-09
Harvest Festival
OCT  01-15
Pacific Fundraiser
OCT  10
* Free Dress Day
*Western Theme & Harvest Festival
*Dismissal at 10:45am
OCT 14
Columbus Day
Campus closed
OCT  15
Make-up Picture Day