OCTOBER MEMO
Dear Parents/Guardians:
Please make note of the following:
The LEPA canned food drive is continuing. Scholars are encouraged to bring in canned food or boxed good items to earn Harvest Festival tickets (each item = 1 ticket). The canned food drive will continue through mid-November but the last day to earn Harvest Festival tickets for canned goods is Tuesday, 10/9/18. All canned/boxed goods will be put into Food Baskets that will be given to families in need the week prior to Thanksgiving.  Since the items will be used in baskets, please do not write scholar names directly on the items.  Lastly, please check expiration dates since we will not be accepting items that are expired or will be expiring prior to December.
Wednesday, 10/3/18 through Wednesday, 10/17/18- Pacific Fundraiser: Fundraiser packets will come home with your scholar(s).  All orders and payments need to be returned to school on Wednesday, 10/17/18.  Delivery of fundraiser items will be on Tuesday, 11/6/18 from 2:30pm-4:00pm.
Monday, 10/8/18- Columbus Day Holiday: Campus is closed.
Thursday, 10/11/18- Make-up Picture Day: Scholars who were absent for picture day in August or are new to LEPA will be having their picture taken.If you purchased pictures from the first picture day and you were dissatisfied with the pictures, your scholar can retake their picture by bringing the unsatisfactory pictures back to school to give to the photographer. Scholars must wear their uniforms for these pictures.
Thursday, 10/25/18- Free Dress Day: Western Wear Theme & Harvest Festival: Scholars can come to school dressed in western clothing in anticipation of going to the Harvest Festival.  Scholars will be dismissed at 10:45am so families can join us at the playground. Parents must pick up their scholar(s) from the dismissal area before scholars are allowed to go to the Festival. The Harvest Festival will run until 3:00pm.  All are welcome to come celebrate fall and have an amazing time at our annual event!
If you have any questions, please feel free to contact the office at (760)948-4333
Thank you,
LEPA Staff
POLICY REMINDER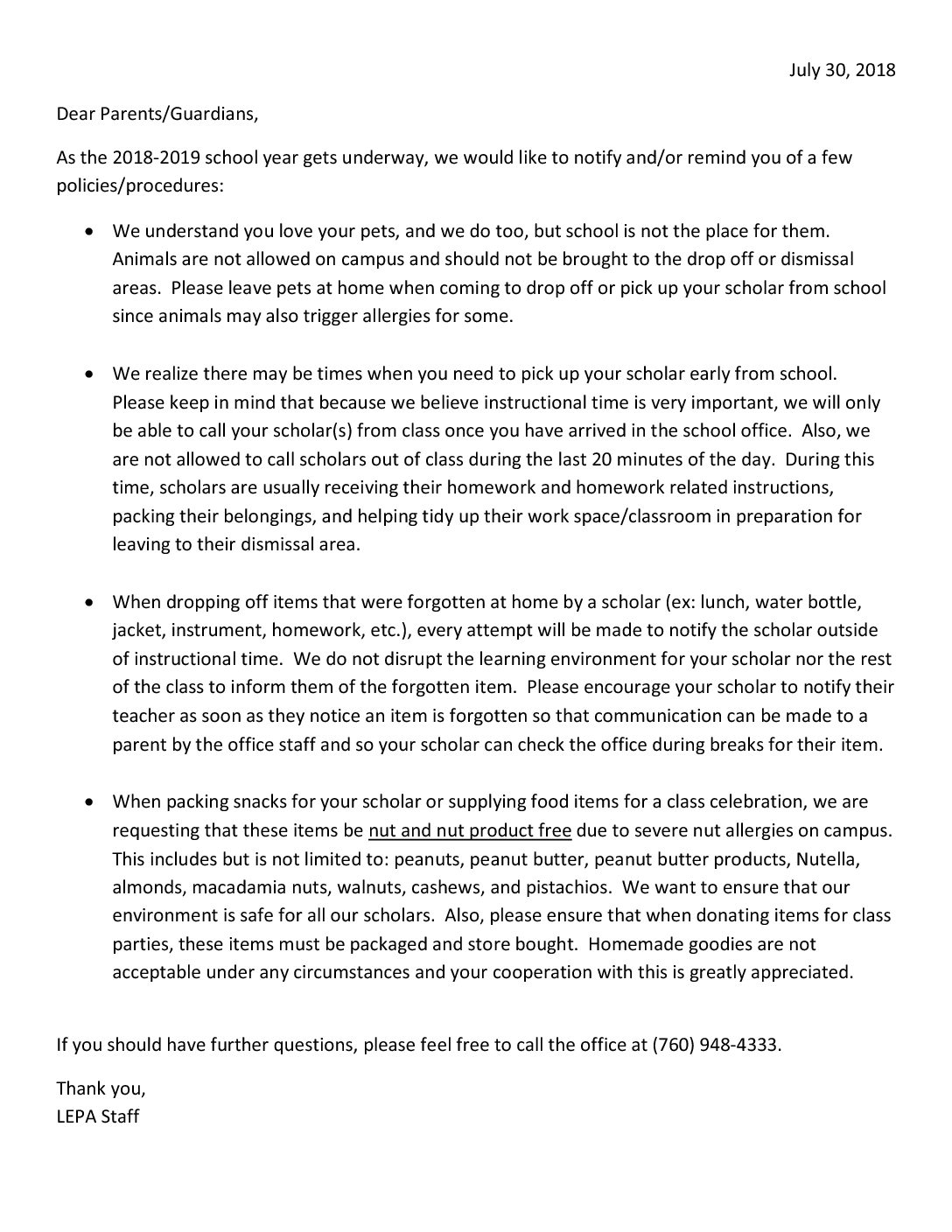 PARKING LOT MEMO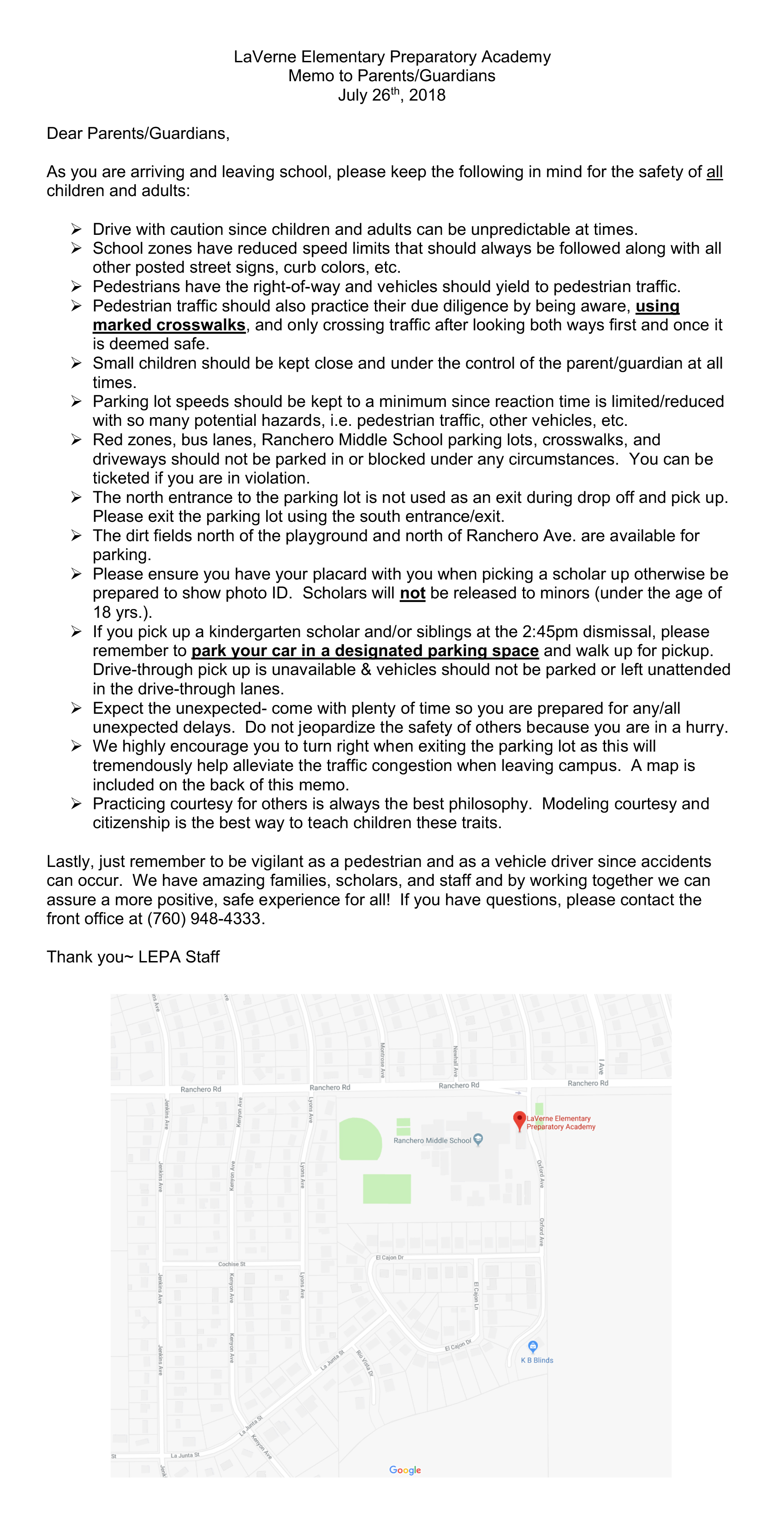 Welcome Letter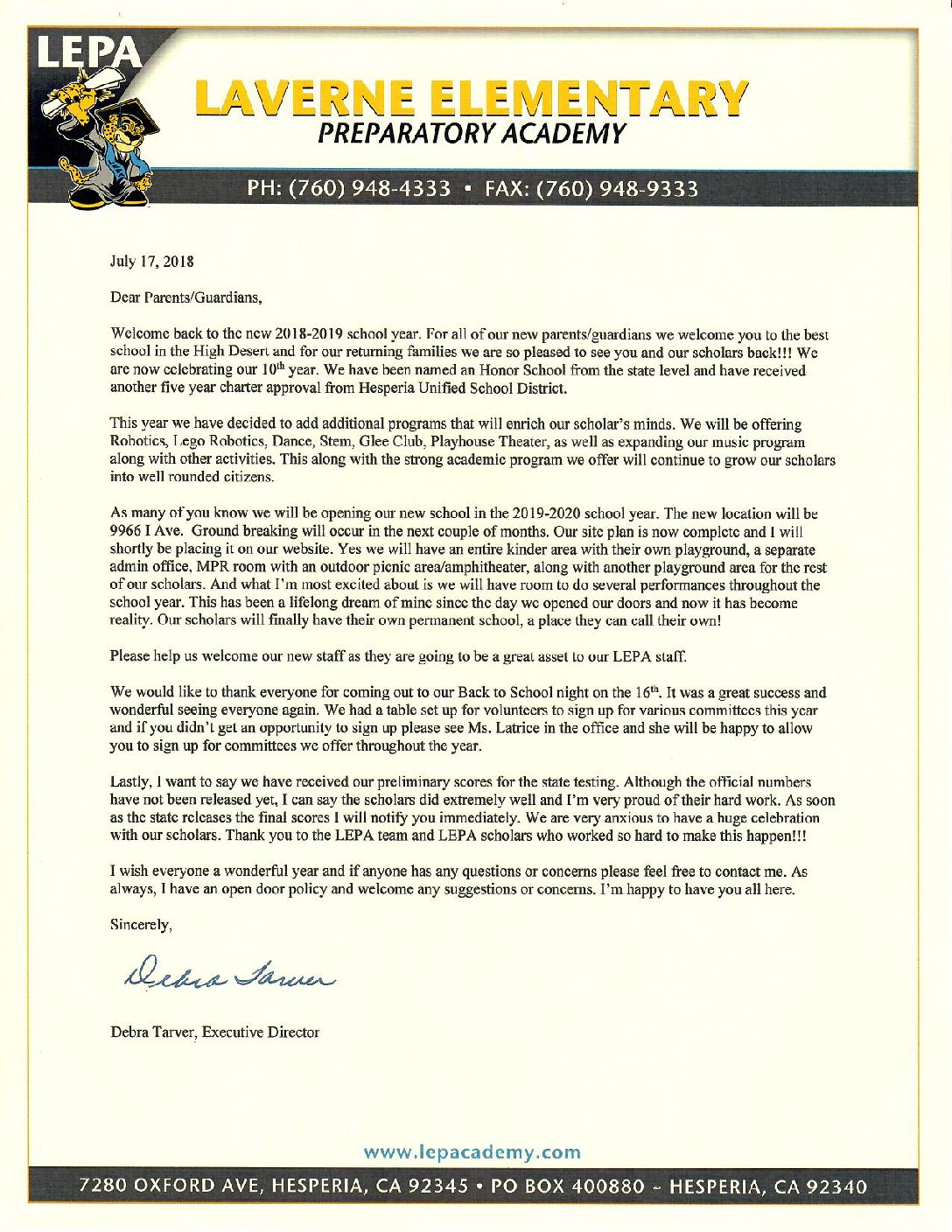 Info Sheet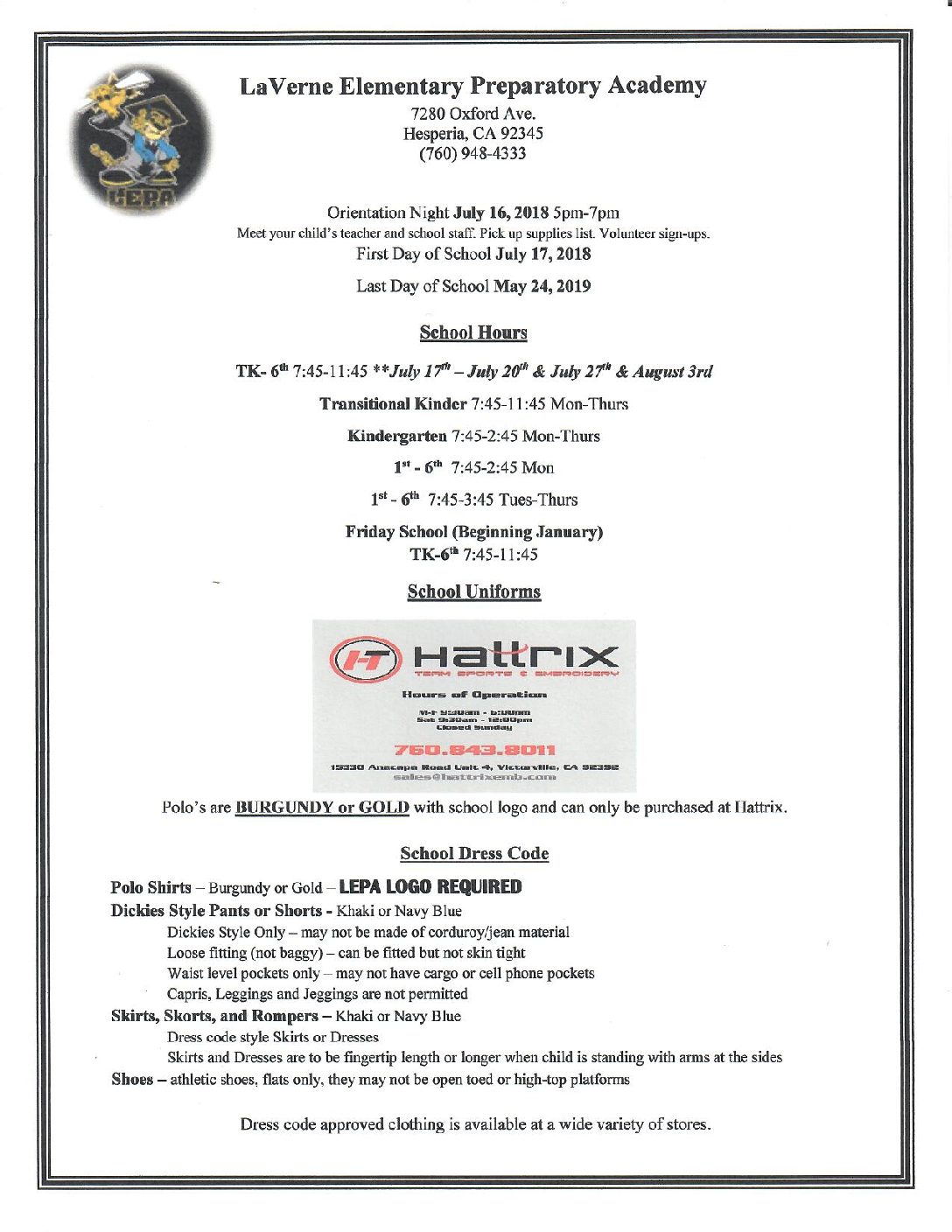 New School Memo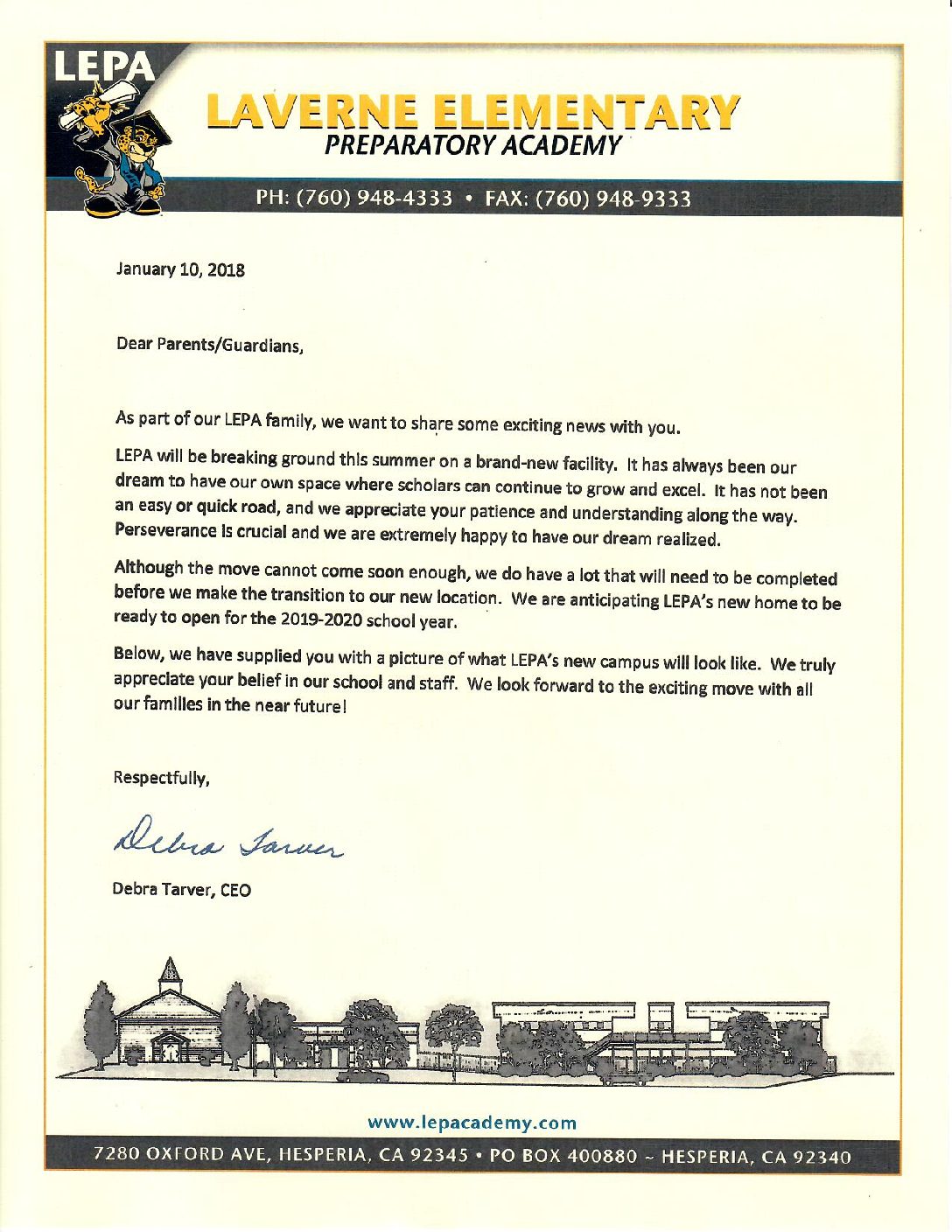 Legislation Info Memo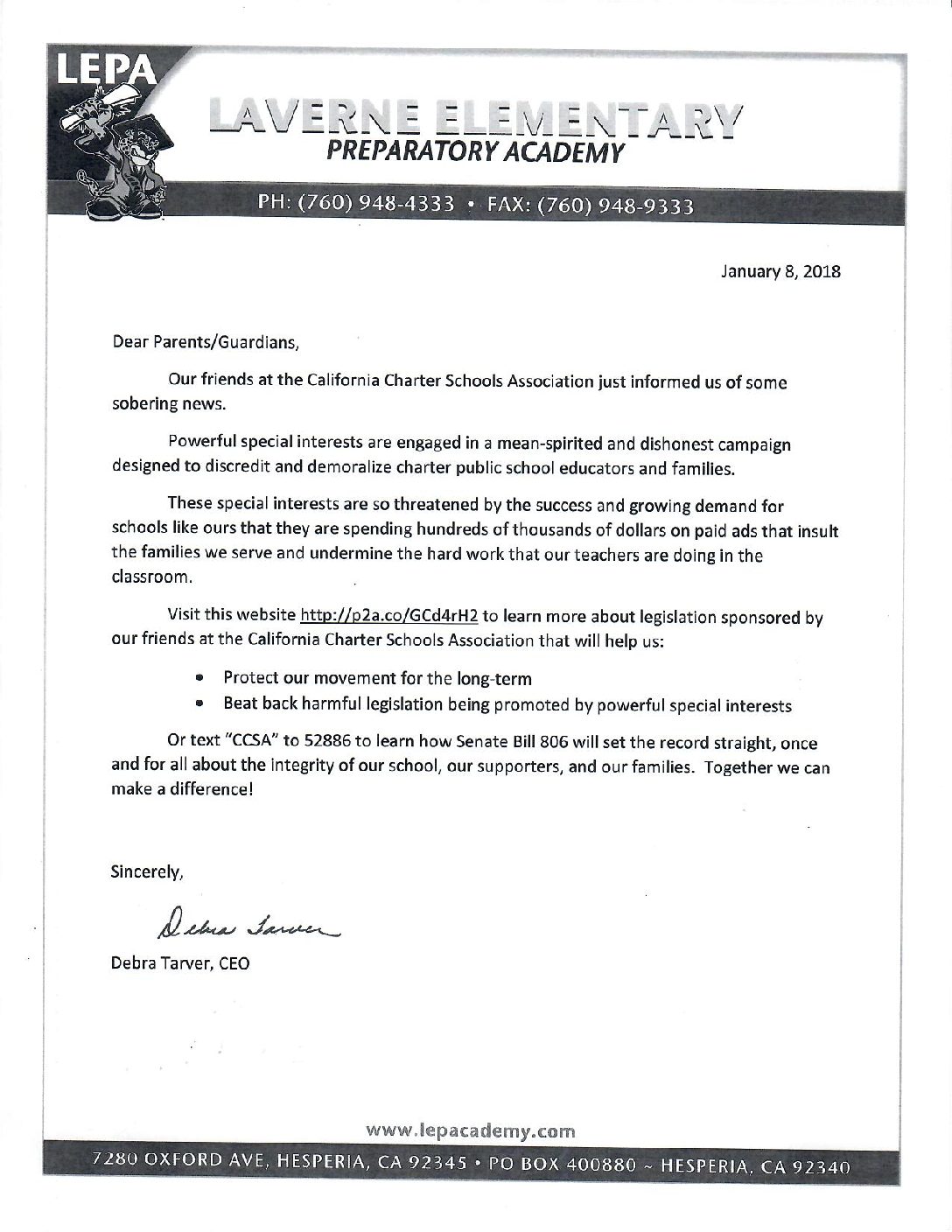 SEP  10-OCT 09
Canned food drive
OCT 03-17
Pacific Fundraiser
OCT 08
Columbus Day Holiday
Campus is closed
OCT 11
Make-up Picture Day
OCT 25
Free Dress Day:
Western Wear Theme &
Harvest Festival